Om Gnaana Swaroopinae namaha
If anyone offends you do not return tit for tat. ---SAIBABA
OM SAI SRI SAI JAYA JAYA SAI
SHRADHA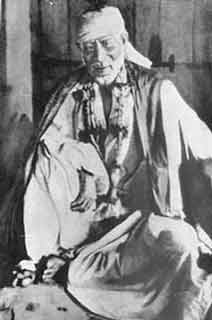 SABURI
SAI BHAJAN (Click Here For Real Audieo)
Bhaja Mana Ram Bhaja Mana Ram 
Panduranga Shree Ranga Bhaja Mana Ram 
Bhaja Mana Keshava Bhaja Mana Madhava 
Bhaja Mana Yaadava Bhaja Mana Ram 
Bhaja Mana Mukunda Bhaja Mana Govinda 
Bhaja Mana Aananda Bhaja Mana Ram 


(O Mind! Worship Lord Rama, Panduranga, Keshava, Madhava, 
  Yadava, Mukunda and Govinda. Be in bliss worshipping all these names of the 
  Lord.)


Free Real Player Download
SHRI SAI SATHCHARITHA

"Sada Nimbarvrikshasya mooladhiwasat, Sudhasravinam tiktamapi-apriyam tam, Tarum Kalpavrikshadhikam sadhayantam Namameeshwaram Sadgurum Sai Natham"

Trimbakrasne

Chapter XII

Laxmannulkar
Mrs. Nimonkar
Mr. Nanasaheb Nimonkar, Watandar of Nomon and Honorary Magistrate, was staying at Shirdi with his wife. Mr. and Mrs. Nimonkar were spending most of their time in the Masjid with Baba and serving Him. It so happened, that their son fell ill at Belapur and the mother decided, with Baba's consent, to go to Belapur, and see her son and other relatives; and stay there for a few days, but Mr. Nanasaheb asked her to return the next day. The lady was in a fix and did not know what to do; but her God Sai came to her help. While leaving Shirdi she went to Baba, who was standing in front of Sathe's wada with Mr. Nanasaheb and others, and prostrated at His Feet and asked His permission to go. Baba said to her, "Go, go quickly, be calm and unperturbed. Stay comfortably at Belapur for four days. See all your relatives and then return to Shirdi." How opportune were Baba's words! Mr. Nanasaheb's proposal was overruled by Baba's decree.
Bow to Shri Sai -- Peace be to all
Devotees Experiences
We shall now note an instance which shows that when a devotee invokes the name of Baba in distress, it could mean the invocation of some other saint. One R.morewallah, solicitor of Bombay was going to Thanaby train. Owing to crowding he could not board the train properly. The train moved and he slipped and fell down. In fright he cried out "Sai"! An old man pulled the chain and held him securely. The train stopped. The railway guard came to enquire but the old man was nowhere to be seen. Later when Morewallah's son visited a saint, the latter said. "Had I not saved your father's life in 1953?"
Please send your experineces also to saivishnu@hotmail.com