Om Parameswa raaya namaha
God is not so far away. He is not in the heavens above, nor in hell below. He is always near you. ---SAIBABA
OM SAI SRI SAI JAYA JAYA SAI
SHRADHA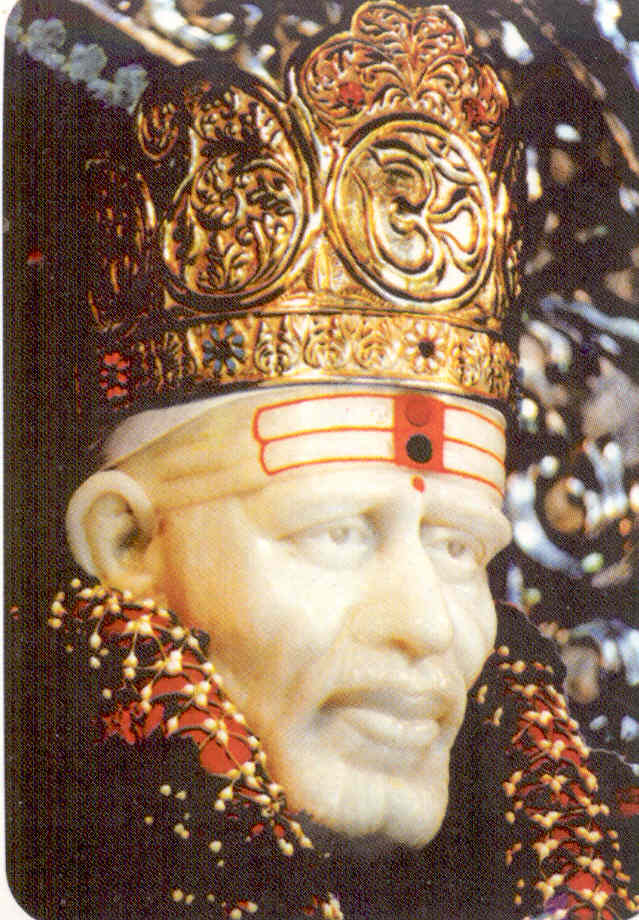 SABURI
SHRI SAI SATHCHARITHA

"Sada Nimbarvrikshasya mooladhiwasat, Sudhasravinam tiktamapi-apriyam tam, Tarum Kalpavrikshadhikam sadhayantam Namameeshwaram Sadgurum Sai Natham"

Meghshyamrege

Chapter XI

Damodharrasne
Baba's Control over the Elements
We shall close this Chapter after describing two incidents showing Baba's control over the elements. (1) Once at evening time, there was a terrible storm at Shirdi. The sky was overcast with thick black clouds. The winds began to blow forcibly; the clouds roared and the lighting began to flash, and the rains began to descend in torrents. In a short time, the whole place was flooded with water, All the creatures, birds, beasts and men got terribly frightened; and they all flocked to the Masjid for shelter. There are many local deities in Shirdi, but none of them came to their help. So they all prayed to Baba - their God, Who was fond of their devotion, to intercede and quell the storm. Baba was much moved. He came out and standing at the edge of the Masjid, addressed the storm in a loud and thunderous voice - "Stop, stop your fury and the calm." In a few minutes the rains subsided, the winds ceased to blow, and the storm came to a stop. Then the moon rose in the sky, and the people then went back home well-pleased, (2) On another occasion at noon the fire in the Dhuni began to burn brightly, its flames were seen to be reaching the rafters above. The people who were sitting in the Masjid did not know what to do. They dared not to ask Baba to pour water or do anything to quench the flames. But Baba soon came to realize, what was happening. He took up His Satka (short stick) and dashed it against a pillar in front, saying - "Get down, Be calm." At each stroke of the Satka, the flames began to lower and slow down; and in a few minutes the Dhuni became calm and normal.
This is our Sai, an Incarnation of God. He will bless any man who will prostrate and surrender himself to Him. He, who will read the stories of this Chapter daily with faith and devotion, will soon be free from all calamities; not only this, but always attached and devoted to Sai, he will get very soon God-vision: all his desires will be fulfilled and being ultimately desireless, he will attain the Supreme. Amen!
Bow to Shri Sai -- Peace be to all
Devotees Experiences
Mankewala of Ahmedabad was laid up with dropsy and intestinal ulcer from 1948 to 1952. He felt it difficult even to drink water. His body weight had increased to 300 pounds and he used to spit blood on account of the ulcer. The doctors who examined him in 1952 had declared that he was sure to pass away in one or two day's time. In a mood of utter helplessness he started worshipping the picture of Baba that his friends had given him. At first he was not so happy to worship the 'moslem saint' which he thought Baba was. Yet Baba's form charmed his heart.
One day at 6 a.m., when he was lying awake in bed, Baba appeared before him and said, "I am not a fakir; I am the avatar of Lord Dattatreya. The same Lord is carrying on his divine mission assuming the different forms of Tajuddin Baba of Nagpur, Dhunivala Dada of Khandwa, Sri Vishnudevananda Saraswathi of Narmads, Sri Swami Samarth of Akkalkot and myself." Next morning his friend gave him two books on Sai Baba written in Gujarati.
A few days later doctors examined him and decided that he had only two more hours to live. As soon as they had left the room a mysterious light appeared in front of Mankewala. Behind it appeared Sai Baba! It was about one p.m. Baba said 'Son, do not fear! I have taken away all your sufferings". The wonder of its is that even the mother of Mankewala could see Baba. He then told them to send Mankewala's son to Shirdi and then walked out of the room.
Mankewala was worried whether his son could travel alone to Shirdi safely and, in case he dies, his son's presence was necessary to perform his obsequies. At last he decided to abide by Baba's words and so sent his son to Shirdi. At about 6 p.m., Baba again appeared to him and said," Do not fear! I am with your son. You will receive a telegram that he had reached Shirdi safely by 12 noon tomorrow."
A few minutes later the doctors again examined the patient and thought that he was dying. They mocked at his accounts of Baba's assurance. Indeed, nothing happened to Mankewala and the next day they received a telegram from Shirdi regarding his son's safe arrival there. For 24 hours precisely from the moment of the receipt of the telegram Mankewala passed excess of urin and suffered a severe attack of diarrhoea. Soon his body weight came down to 75 pounds. His pulse and heart beat were normal. The doctors agreed that his recovery was indeed a miracle of Sai Baba. Within the next two months Mankewala regained his normal health. On 23rd of August 1954 Sai Baba again appeared before him. Waving his baton( satka) playfully, he said, "I am always in front of my devotees".
Please send your experineces also to saivishnu@hotmail.com