Om Antaryaaminae namaha
My people do not come to me of their own accord; it is I who seek and bring them to me. ---SAIBABA
OM SAI SRI SAI JAYA JAYA SAI
SHRADHA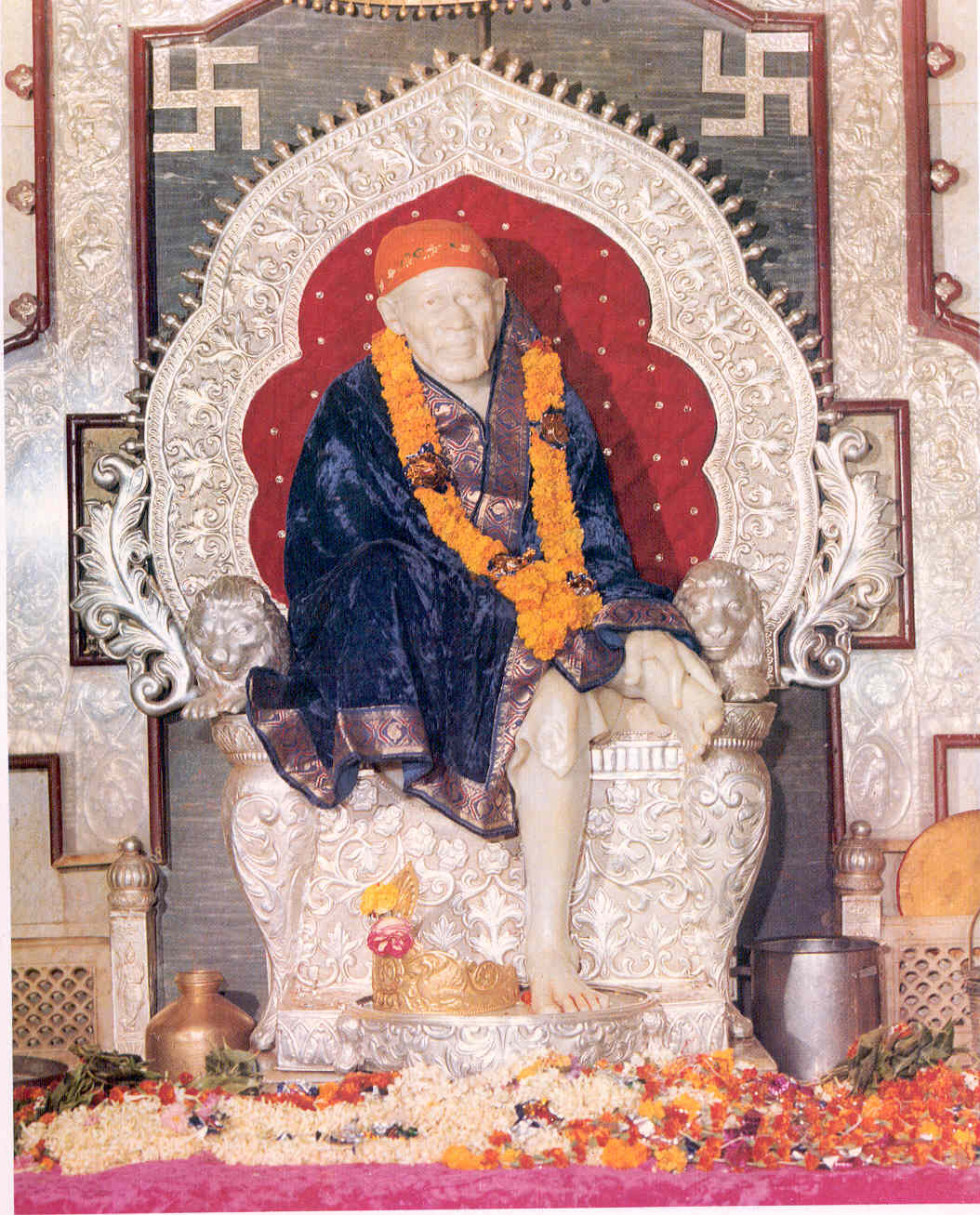 SABURI
SAI BHAJAN (Click Here For Real Audieo)
Murali Krishna Mukunda Krishna Mohana Krishna Krishna Krishna 
Gopee Krishna, Gopaala Krishna, Govardhanadhara Krishna Krishna 
Radha Krishna, Baala Krishna, Raasa Vilola Krishna Krishna 
Shirdi Krishna, Parthi Krishna, Shree Sathya Sai Krishna Krishna 


(Hail Krishna, who enchants us, with a beautiful form, who holds 
  the flute and liberates us; cowherd boy who held the mountain, Radha's 
  Krishna, who danced ecstatically with the gopis; Krishna, who lived as Shirdi 
  Sai is now incarnated in Puttapari.)

Free Real Player Download
SHRI SAI SATHCHARITHA

"Sada Nimbarvrikshasya mooladhiwasat, Sudhasravinam tiktamapi-apriyam tam, Tarum Kalpavrikshadhikam sadhayantam Namameeshwaram Sadgurum Sai Natham"

Yrsukher

Chapter X

Kashirambalashimpi
Nanavalli
There was in Shirdi, a very quaint and queer fellow, by name Nanavalli. He looked to Baba's work and affairs. He once approached Baba who was seated on His Gadi (seat) and asked Him to get up, as he wanted to occupy the same. Baba at once got up and left the seat, which he occupied. After sitting there awhile Nanavalli got up, and asked Baba to take His seat. Then Baba sat on the seat and Nanavalli fell at His feet, and then went away. Baba did not show the slightest displeasure in being dictated to and ousted.

This Nanavalli loved Baba so much that he breathed his last, on the thirteenth day of Baba's taking Maha-Samadhi.
Bow to Shri Sai -- Peace be to all
Devotees Experiences
A few years ago, after the birth anniversary of Sri Omkaraswami, at Totaplalli, (East Godavari Dt. , A.P.) the devotees gathered in a small room and sang bhajans of Sai Baba. At once Baba's name was found inscribed mysteriously on all the fruits and flowers offered to Sai , including a coconut offered by the Swami and also on watches, rings and necklaces, put before Sai by devotees. On a ball of vibhuti appeared the letters 'Sai Mandu' ('Sai medicine'). A devotee suffering from fever and an ailing cow were instantly cured with it. The devotees wished to raise a Sai mandir at the place. At once they found the words, "This is the presence of Sai!" mysteriously written on a white paper and on the walls of the shrine in the ashram. Sri Omakaraswami later announced in the ashram journal 'Santhi' that ever since, he has been feeling the whole place charged with spiritual power and that he has been experiencing a sense of identity with Sai.
Please send your experineces also to saivishnu@hotmail.com