Om Bhukti Mukti Swargaa pa varga daaya namaha
If you make me the sole object of your thoughts and aims, you will gain the supreme goal. ---SAIBABA
OM SAI SRI SAI JAYA JAYA SAI
SHRADHA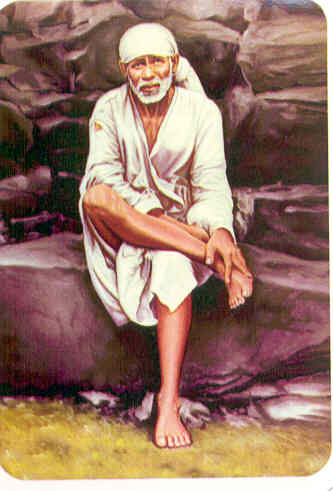 SABURI
SHRI SAI SATHCHARITHA

"Sada Nimbarvrikshasya mooladhiwasat, Sudhasravinam tiktamapi-apriyam tam, Tarum Kalpavrikshadhikam sadhayantam Namameeshwaram Sadgurum Sai Natham"

Sadubhaiyanaik

Chapter X

Chotubhaiyaparalkar
Sagun Manifestation of Brahman
Though Sai Baba looked like a man, three cubits and a half in length, still He dwelt in the hearts of all. Inwardly, he was unattached and indifferent, but outwardly, He longed for public welfare. Inwardly most disinterested, He looked outwardly full of desires, for the sake of His devotees. Inwardly an abode of peace, he looked outwardly restless. Inwardly He had the state of Brahman, outwardly He acted like a devil. Inwardly He had the state of Brahman, outwardly he acted like a devil. Inwardly He loved Adwaita (union or monism), outwardly He got entangled with the world. Sometimes He looked on all with affection, and at times He threw stones at them; sometimes He scolded them, while at times He embraced them and was calm, composed, tolerant and well-balanced. He always abided and was engrossed in the Self and was well-disposed towards His Bhaktas. He always sat on one Asan and never travelled. His 'band' was a small stick, which He always carried in His hand. He was calm, being thought-free. He never cared for wealth and fame and lived on begging. Such a life He led. He always uttered 'Allah Malik' (God the real owner). Entire and unbroken was His love for the Bhaktas. He was the mine or store-house for self-knowledge and full of Divine Bliss. Such was the Divine Form of Sai Baba, boundless, endless and undifferentiated. One principle which envelopes the whole universe, (from a stone pillar to Brahma) incarnated in Sai Baba. The really meritorious and fortunate people got this treasure-trove in their hands, while those people who not knowing the real worth of Sai Baba took or take Him to be a man, a mere human being, were and are indeed miserable.
Bow to Shri Sai -- Peace be to all
Devotees Experiences
Manikshah never ate anything without first offering it to Baba. Yet he could not visit Shirdi for a long time. Once on his way to Nagpurhe was sleeping in his reserved compartment. At about 1-30 p.m. he woke up at Manmad. A vague human form appeared and said "Do not proceed further!", and vanished. He looked out but found none. He got down from the train. He had his next train for Nagpur only late in the evening. the pilgrims proceeding to Shirdi suggested that he could join them and he did. By evening he returned to Manmad and was shocked to learn that the earlier train by which he came, later met with a major accident and that many were killed or wounded. Baba had mercifully saved him from the danger and fulfilled his wish to visit Shirdi.
Please send your experineces also to saivishnu@hotmail.com