Om Aapadbaandha vaaya namaha
There shall be no want in the house of my devotee. ---SAIBABA
OM SAI SRI SAI JAYA JAYA SAI
SHRADHA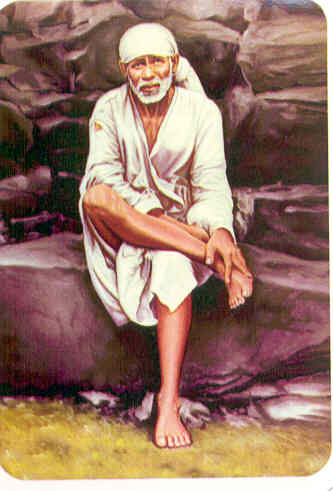 SABURI
SAI BHAJAN (Click Here For Real Audieo)
Charana Kamala Bandho Sai Naathha Key Charana Kamala Bandho 
Jo Trisha Vantho Piya Charanamritha, Jeevana Mey Pavey Aanando 


(The lotus feet of Lord Sai are our closeset companion; Whoever 
  thirsts for his nectarlike lotus feet will come and be filled with 
  blissfulness throughout his entire life time.) 

Free Real Player Download
SHRI SAI SATHCHARITHA

"Sada Nimbarvrikshasya mooladhiwasat, Sudhasravinam tiktamapi-apriyam tam, Tarum Kalpavrikshadhikam sadhayantam Namameeshwaram Sadgurum Sai Natham"

Shrisitaramdixit

Chapter IX

Balasahebbhate
Baba Fed Sumptuously, -- How?
Once, Mrs. Tarkhad was staying in a certain house in Shirdi. At noon, meals were ready and dishes were being served, when a hungry dog turned up there and began to cry, Mrs. Tarkhad got up at once and threw a piece of bread, which the dog gulped with great relish. In the afternoon, when she went to the Masjid and sat at some distance, Sai Baba said to her, "Mother, you have fed Me sumptuously up to my throat, My afflicted pranas (life-forces) have been satisfied. always act like this, and this will stand you in good stead. Sitting in this Masjid I shall never, never speak untruth. Take pity on Me like this. First give bread to the hungry, and then eat yourself. Note this well." She could not at first understand the meaning of what Baba said. So she replied -- "Baba, how could I feed You? I am myself dependent on others and take my food from them on payment." Then Baba replied -- "Eating that lovely bread I am heartily contended and I am still belching. The dog which you saw before meals and to which you gave the piece of bread is, one with Me, so also other creatures (cats, pigs, flies, cows etc.) are one with Me. I am roaming in their forms. He, who sees Me in all these creatures is My beloved. So abandon the sense of duality and distinction, and serve Me, as you did today." Drinking these nectar-like words, she was moved, her eyes were filled with tears, her throat was choked and her joy knew no bounds.
Bow to Shri Sai -- Peace be to all
Devotees Experiences
Arthur Osborne, in his book Incredible Sai Baba, writes that in 1960, one Miss.Dutton, his neighbour aged 30 had lived in a nunnery for sometime and decided to leave it. One day, she sat in her cell brooding over the uncertainties of her future. A Moslem fakir approached her cell and sai, "Don't worry. When you leave the nunnery, everything would go well with you". When he demanded dakshina, she said, that she had no money "There are Rs.35/- in the box in your cupboard", he said. When she looked up, she did find the money. But the fakir had vanished! She wondered how a man and a Moslem fakir at that, had gained entry into the Christian nunnery. Since the moment he had appeared, peace filled her anxious heard. She left the nunnery and her nephew looked after her well. Henceforth her faith had grown stronger. Arthur Osborne who listened to the whole account then showed her a picture of Sai Baba and she at once recognized him as the fakir who had graced her. A Christian ought to live a truly Christian life. The spirit manifests itself in a form like Baba's in the modern age to sean humans from the narrowness which is a by- product of religious diversity of modern society.
Please send your experineces also to saivishnu@hotmail.com