Om Yoga Kshema Vahaaya namaha
If you seek my advice and help, it shall be given to you at once. ---SAIBABA
OM SAI SRI SAI JAYA JAYA SAI
SHRADHA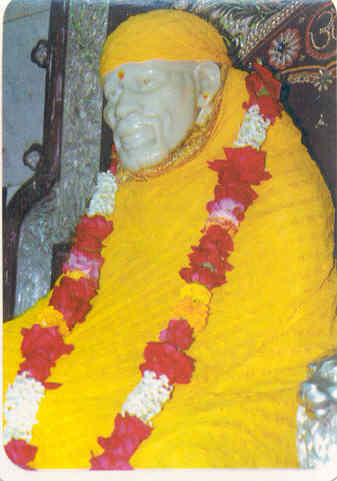 SABURI
SAI BHAJAN (Click Here For Real Audieo)
Sahara Do Bhagawaan 
Muhjey Dayaa Karo Muhjey Krupa Karo 
Sanmati Do Bhagawaan 
Sadaa Saatha Raho Hey Bhagawaan 
Sadaa Raksha Karo Hey Bhagawaan 
Shanthi Bhakthi Prem Do Bhagawaan 


(O Lord have mercy and shower grace on me and kindly bless me 
  with thy support and shelter. Please be always with me and protect me and 
  grant me peace, devotion and love.)

Free Real Player Download
SHRI SAI SATHCHARITHA

"Sada Nimbarvrikshasya mooladhiwasat, Sudhasravinam tiktamapi-apriyam tam, Tarum Kalpavrikshadhikam sadhayantam Namameeshwaram Sadgurum Sai Natham"

Sunderraonavalkar

Chapter IX

Madhavraoaadkar
Mrs. Tarkhad
Let us now take up the case of Mrs. Tarkhad herself. She offered three things, viz. (1) Bharit (roasted brinjal egg plant mixed curds and spice). (2) Kacharya (circular pieces of brinjal fried in ghee), (3) Peda (sweetmeat ball). Let us see how Baba accepted them.
Once Mr. Raghuvir Bhaskar Purandare of Bandra, a great devotee of Baba started for Shirdi with his family. Mrs Tarkhad went to Mrs. Purandare, and gave her two brinjals and requested her to prepare Bharit of one bringal and Kacharya of the other, when she went to Shirdi and serve Baba with them. After reaching Shirdi, Mrs. Purandare went with her dish of Bharit to the Masjid when Baba was just about to start his meals. Baba found the Bharit very tasty. So He distributed it to all and said that He wanted Kacharyas now. A word was sent to Radha Krishna-Mai, that Baba wanted Kacharyas. She was in a fix, as that was no season of brinjals. How to get brinjals was the question? When an enquiry was made as to who brought the Bharit, it was found that Mrs. Purandare was also entrusted with the duty of serving Kacharyas. Everybody then came to know the significance of Baba's enquiry regarding Kacharyas, and was wonderstruck at Baba's all-pervasive knowledge
Bow to Shri Sai -- Peace be to all
Devotees Experiences
One day a fakir came to the house of Mr. Dandavate of Indore at noon and called his wife by name. When her husband responded, the fakir said that he came to see his 'daughter ' Kamalabai. The later came out and invited him for breakfast. Kamalabai's husband left for the school. The fakir told her that he had not come for food and that he wanted her sari of nine yards length. She marveled at his uncanny knowledge and went in to get it. But all the time she was wondering what she could say to her husband if he were to ask about it. At once the fakir told her in a raised voice from the drawing-room. "Do not worry. You shall soon get a new sari in its place by tomorrow"! She wondered still more that the fakir could respond to her unuttered thought. She was convinced that he could be none other than Sai Baba and she offered him the sari without any hesitation. She again went inside to offer him a cup of milk but by the time she came out, he was nowhere to be found! Next day his word came true. For, a housewife of the neighbourhood visited her and presented her with a nine-yards sari. Besides, the fortunes of the family steadily improved thereafter.
Please send your experineces also to saivishnu@hotmail.com