Om Putra Mitra Kalatra Bandhu daaya namaha
I will take you to the end. ---SAIBABA
OM SAI SRI SAI JAYA JAYA SAI
SHRADHA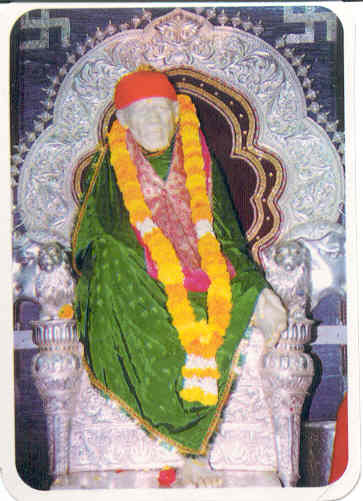 SABURI
SAI BHAJAN (Click Here For Real Audieo)
Dam Dam Dam Dam Damaru Bhajey 
(Hara) Bhola Naathha Shiva Shambho Bhajey 
(Hara) Sai Naathha Shiva Shambho Bhajey 
Ghan Ghan Ghan Ghan Ghanta Bhajey 
(Hara) Gauri Naathha Shiva Shambho Bhajey 
(Hara) Sai Naathha Shiva Shambho Bhajey 
(Hara) Sathya Sai (Naathha) Shiva Shambho Bhajey 

(The drum beats the sound of "dam dam"; It plays in worship of 
  Shiva; The gong rings out the sound of "ghan ghan"; It sings in worship of 
  Shiva; It sings in worship of Lord Sai, who is Shiva incarnate).

Free Real Player Download
SHRI SAI SATHCHARITHA

"Sada Nimbarvrikshasya mooladhiwasat, Sudhasravinam tiktamapi-apriyam tam, Tarum Kalpavrikshadhikam sadhayantam Namameeshwaram Sadgurum Sai Natham"

Chotubhaiyaparalkar

Chapter IX

Bhaudhumal
The Necessity of Mendicancy
Now to return to the question of mendicancy. A question may arise in the minds of some that if Baba was such a great personage - God in fact, why should He have recourse to the begging bowl, all His lifetime? This question may be considered and replied from two standpoints. (1) Who are the fit persons, who have a right to live by the begging-bowl? Our Shastras say that those persons, who, getting rid of, or becoming free from the three main Desires, viz. (1) for progeny, (2) for wealth, (3) for fame, accept Sannyas, are the fit persons to live by begging alms. They cannot make cooking arrangements and dine at home. The duty of feeding them rests on the shoulders of house-holders. Sai Baba was neither a house-holder nor Vanaprastha. He was a celibate sannyasi, i.e., sannyasi from boyhood. His firm conviction was that the universe was His home, He was the Lord Vasudeo - the Supporter of the universe and the Imperishable Brahman. So He had the full right to have recourse to the begging-bowl. (2) Now from the standpoint of (1) Pancha-soon - five sins and their atonement. We all know that in order to prepare food-stuffs and meals, the householders have to go through five actions or processes, viz. (1) Kandani-Pounding, (2) Peshani-Grinding, (3) Udakumbhi - Washing pots, (4) Marjani - Sweeping and cleaning, (5) Chulli-Lighting hearths. These processes involve destruction of a lot of small insects and creatures, and thus the householders incur a lot of sin. In order to atone for this sin, our Shastras prescribe five kinds of sacrifices, viz. (1) Brahma-Yajna, (2) vedadhyayan - offerings to Brahman or the study of the Vedas. (3) Pitra-Yajna-offerings to the ancestors, 4)Deva-Yajna - offerings to the Gods, (5) Bhoota-Yajna-offerings to the beings, (6) Manushya-Atithi-Yajna-offerings to men or uninvited guests. If these sacrifices, enjoined by the Shastras are duly performed, the purification of their minds is effected and this helps them to get knowledge and self-realization. Baba, in going from house to house, reminded the inmates of their sacred duty, and fortunate were the people, who got the lesson at their homes from Baba.
Bow to Shri Sai -- Peace be to all
Devotees Experiences
MMr.K.D.Matrey once visited Shirdi. The samadhi mandir was under repair, his child who was two and a half years old stood on the first floor, looking at children playing on theroad below. Suddenly she leaned forward, slipped and fell down from the terrace. Several devotees rushed to her but the child stood up smiling and sai, "As I fell down, the old man in that picture leaped up, held me in his hands and kept me down"!
Please send your experineces also to saivishnu@hotmail.com