Om Dhana Maangalya daaya namaha
If you make me the sole object of your thoughts and aims, you will gain the supreme goal. ---SAIBABA
OM SAI SRI SAI JAYA JAYA SAI
SHRADHA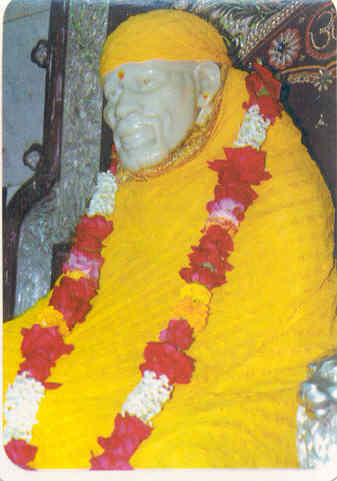 SABURI
SAI BHAJAN (Click Here For Real Audieo)
Shiva Maheshwara Shiva Maheshwara Shiva Maheshwara Sai Ram 
Shiva Maheshwara, Shiva Shankara, Shiva Mahaadeva, Sai Ram 
Kailasa Vaasa Maheshwara 
Jagadeeshwara Baba Mahaadeva 
Thribhuvana Paala Baba Sai Deva 

(Hail to Sai Baba, who is the great Lord Shiva; giver of 
  prosperity; who dwells on Kailas mountain; Lord of the universe, Shiva, Sai 
  Baba; Protector of the three worlds, Shiva, who is our God Sai.)

Free Real Player Download
SHRI SAI SATHCHARITHA

"Sada Nimbarvrikshasya mooladhiwasat, Sudhasravinam tiktamapi-apriyam tam, Tarum Kalpavrikshadhikam sadhayantam Namameeshwaram Sadgurum Sai Natham"

Tatya

Chapter IX

Shama
Characteristic of Shirdi - Pilgrimage
One special peculiarity of Shirdi-pilgrimage was this, that none could leave Shirdi, without Baba's permission; and if he did, he invited untold sufferings, but if any one was asked to quit Shirdi, he could stay there no longer. Baba gave certain suggestions or hints, when Bhaktas went to bid good-bye and take leave. These suggestions had to be followed. If they were not followed or were departed from, accidents were sure to befall them, who acted contrary to Baba's directions. We give below a few instances.
Tatya Kote Patil
Tatya Kote was once going in a tanga to Kopargaon bazar. He came in haste to the Masjid, saluted Baba, and said that he would go to Kopargtaon bazar. Baba said, "Don't make haste, stop a little, let go the bazar, don't go out of the village". On seeing has anxiety to go, Baba asked him to take Shama (Madhavrao Deshpande) at least with him. Not minding this direction, Tatya Kote immediately drove his tanga. Of the two horses one, which cost Rs.300/- was very active and restless. After passing Sawul well, it began to run rashly, got a sprain in its waist and fell down. Tatya was not much hurt, but was reminded of Mother Sai's direction. On another occasion while proceeding to Kolhar village, he disregarded Baba's direction, and drove in a tanga, which met with a similiar accident.
Bow to Shri Sai -- Peace be to all
Devotees Experiences
An advocate from Boribandar, once started for Shirdi with Rs.100/- in his pocket. Unfortunately (of fortunately?) his pocket was picked and he had lost the money and his railway ticket. Later the ticket exation came up and did not relent even after hearing about the theft. Just then an old gentleman gave the lawyer a ticket and said that his man did not join him as promised. He introduced himself as a devotee of Sai Baba and bore all the expenses of the advocate. At Shirdi the old man presented him with a copy of a book on Sai Baba and also gave him his address in Bombay. Later on, opening the book the advocate found Rs.100/- in it. When he returned home he found his purse before Baba's picture in his family shrine! He soon went to Bombay but the old man's address could not be traced. The advocate kept the money he found in the book in his shrine for worship. Thereafter his financial condition improved considerably.
Please send your experineces also to saivishnu@hotmail.com