Om Anna Vastra daaya namaha
If you seek my advice and help, it shall be given to you at once. ---SAIBABA
OM SAI SRI SAI JAYA JAYA SAI
SHRADHA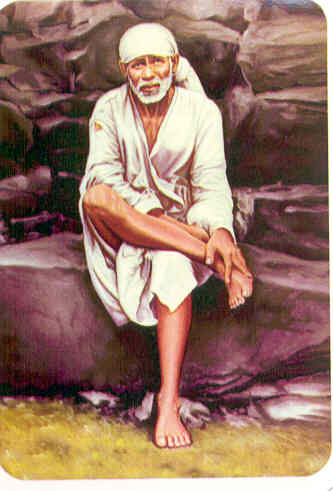 SABURI
SAI BHAJAN (Click Here For Real Audieo)

Sai Bhajana Bina Sukha Shaanti Nahi 
Hari Naam Bina Aanand Nahi 
Prema Bhakthi Bina Uddhaar Nahi 
Guru Seva Bina Nirvaan Nahi ...Sai Bhajana 
Japa Dhyaana Bina Samyog Nahi 
Prabhu Darsa Bina Prajnan Nahi 
Daya Dharma Bina Sat Karma Nahi 
Bhagawaan Bina Koyi Apna Nahi 
Sai Ram Bina Paramaatma Nahi 


(Without singing Sai Bhajan, it is not possible to find peace 
  and happiness. Without worshipping Shree Krishna it is not possible to gain 
  bliss. Without love, devotion and detachment liberation is not possible. 
  Without service to the divine teacher salvation is not possible. Without 
  meditation and repetition of God's name Samadhi or union with god is not 
  possible. Without a desire to realize god, supreme knowledge cannot be 
  attained. Without kindness and right conduct no act can be called a good act. 
  There is no one that we can call our own except god. There is no Lord except 
  the Supreme Lord Of Lords, Sai Nath.)

Free Real Player Download
SHRI SAI SATHCHARITHA

"Sada Nimbarvrikshasya mooladhiwasat, Sudhasravinam tiktamapi-apriyam tam, Tarum Kalpavrikshadhikam sadhayantam Namameeshwaram Sadgurum Sai Natham"

Mhalsapati

Chapter VIII

Tatya
Dormitory of Trio
Even blessed are the Saints in whose heart Lord Vasudeo dwells, and fortunate, indeed, are the devotees who get the benefit of the company of such Saints. Two such fortunate fellows, Tatya Kote Patil and Bhagat Mhalsapati, equally shared the company of Sai Baba. Baba also loved them both equally. These three persons slept in the Masjid with their heads towards the east, west and north and with their feet touching one another at the centre. Stretching their beds, they lay on them, chitchatting and gossiping about many things, till late at midnight. If any one of them showed any signs of sleep, others would wake him up. For instance, if Tatya began to snore, Baba at once got up and shook him from side to side and pressed his head. If it was Mhalsapati, He hugged him close, stroked his legs and kneaded his back. In this way for full 14 years, Tatya, leaving his parents at home, slept in the Masjid on account of his love for Baba. How happy and never to be forgotten were those days! How to measure that love and how to value the grace of Baba? After the passing away of his father, Tatya took charge of the household affairs and began to sleep at home.
Bow to Shri Sai -- Peace be to all
Devotees Experiences
Though Mr. Veerendra Pandya and no faith in Baba, he visited Shirdi with his brother. Later he lived a Kalyan near Bombay and his parents lived in Bihar. Once when his family had to face many difficulties, he took out the picture of Baba which was lying in his trunk, kept it in the shrine and prayed fervently that he should find a solution to his problem by evening. At once peace descended on him and by evening he hit upon a solution to his problem. Strangely, he learned from a letter that the same solution occurred to his mother to precisely at the same hour. He decided to dedicate all his life, henceforth to the service of Baba, giving up all worldly activity but his mother insisted that he should marry. Again he prayed for a written solution to the problem. Next day, quite casually, his eyes fell on a book entitled, Sri Sai Baba Upasana. He opened it at random and the chapter Bhavasudha came up. The message contained therein was that a householder's life is preferable. Yet he doubted whether it was mere coincidence.
At that time he was residing at Vitarna, a forest area infested by robbers disguised as sadhus. So he instructed his watchman not to permit even 'sadhus' to enter his gate. With these facts in mind, he one day prayed , "Baba, in order that my faith in you could get strengthened, tomorrow a Thursday which is sacred to you, at lunch time a sadhu should come, bless me by keeping his right hand on my head and make passes with the same all over my body. If this is granted, I vow to visit Shirdi".
Next day at lunch time no sadhu turned up. Just as Pandya was about to partake of the first morsel, a sadhu called for food. When Pandya offered him food, the former received the same and put his right hand on Pandys's head by way of blessing and left. Pandya recognized that only a part of his wish was fulfilled and that he did not receive the sadhu in a proper manner. While he was thinking the sadhu returned. Pandya offered him Rs.2/- as dakshina. The fakir passed his hand all over pandy's body, smiled sportively and went away. Next Thursday Pandya fulfilled his vow.
Please send your experineces also to saivishnu@hotmail.com