Om Bhaktaavana Pratignya Samardhaaya namaha
If you look to me, I look to you. ---SAIBABA
OM SAI SRI SAI JAYA JAYA SAI
SHRADHA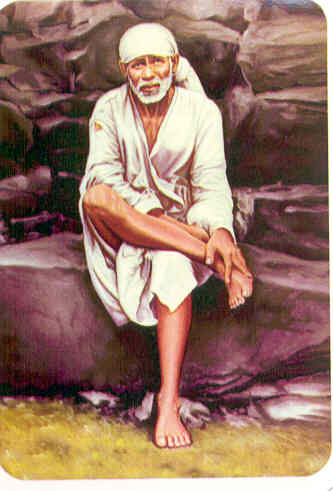 SABURI
SAI BHAJAN (Click Here For Real Audieo)

Jai Jai Gurudeva Shree Sai Mahaadeva 
Brahma Vishnu Maheshwara Sai Mahaadeva 
Maatha Pitha Guru Deva Shree Sai Mahaadeva 


(Victory to the noble teacher, the Lord of Lords, Lord Sai Who 
  is Brahma(Creator), Vishnu(Sustainer), Maheshawra (Destroyer of evils and 
  Supreme Lord), Father and Mother of the Universe)

Free Real Player Download
SHRI SAI SATHCHARITHA

"Sada Nimbarvrikshasya mooladhiwasat, Sudhasravinam tiktamapi-apriyam tam, Tarum Kalpavrikshadhikam sadhayantam Namameeshwaram Sadgurum Sai Natham"

Baijabai

Chapter VIII

Tatya
Bayajabai's Brilliant Service
Tatya Kote's mother, Bayajabai, used to go to the woods every noon with a basket on her head containing bread and vegetables. She roamed in the jungles koos (about 3 miles) after koss, trampling over bushes and shrubs in search of the mad Fakir, and after hunting Him out, fell at His feet. The Fakir sat calm and motionless in meditation, while she placed a leaf before Him, spread the eatables, bread, vegetables etc. thereon and fed Him forcibly. Wonderful was her faith and service. Every day she roamed at noon in the jungles and forced Baba to the partake of lunch. Her service, Upasana or Penance, by whatever name we call it, was never forgotten by Baba till his Maha Samadhi. Remembering fully what service she rendered, Baba benefited her son magnificently. Both the son and the mother had great faith in the Fakir, Who was their God. Baba often said to them that "Fakir (Mendicacy) was the real Lordship as it was everlasting, and the so called Lordship (riches) was transient". After some years, Baba left off going into the woods, began to live in the village and take His food in the Masjid. From that time Bayajabai's troubles of roaming in the jungles ended.
Bow to Shri Sai -- Peace be to all
Devotees Experiences
A gentleman at udapur was suffering from stomach ulcer. His wife Surajbai was anxious about him at Kamgaon. One night she had a terrible dream; she saw her husband's body being carried to the cremation ground, and she was telling her brother that she preferred death to widowhood. A strange fakir with a radiant face said to her "Why do you weep?" "Your husband will come to life again". At once here husband sat up and the dream ended.
Later she came to know that on the same day her husband's condition grew hopeless and that he soon recovered quite mysteriously. She later saw the picture of Baba and recognized him as the fakir who come in her dream and started worshipping it ignoring the criticism and objections of her co-religionists. After sometime she visited Shirdi and recognized the place in which the fakir stood in her dream vision was indeed Dwarakamai.
On her next visit to Shirdi she had two dreams ; one: Several persons of Jain religion were going round Sai Baba, chanting, "Sainath Boleja". Two :Several Jain Sadhus were assembled in a large hall and Baba was seated at the centre. She asked him for instruction about a certain matter. Baba then told her to seek it from a saint named Santnath Bhagwan, seated in the assembly. With this she woke up. She understood thereby that Baba had instructed her to stick to the tenets of her won religion, that her devotion to Baba does not run counter to adherence to one's native faith
Please send your experineces also to saivishnu@hotmail.com