Om Jeevaa Dhaaraaya namaha
My business is to give blessings ---SAIBABA
OM SAI SRI SAI JAYA JAYA SAI
SHRADHA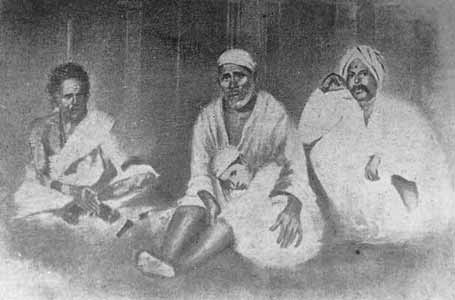 SABURI
SAI BHAJAN (Click Here For Real Audieo)

Guru Deva Jaya Deva Sai Deva Dayaa Maya 
Vibhooti Sundara Shashaanka Shekhara 
Sai Shankara Dayaa Karo (2)...(Guru Deva) 
Gokula Nandana Sai Gopaala 
Raghukula Bhooshana Sai Rama 
Hey Madanantaka Kripa Karo (2) 


(Victory to Thee, O revered Teacher, O kind One. You are beautified by 
vibhoothi and decorated by moon on Your head. Thou art none other than Lord 
Shiva or Krishna or Rama. Give us Thy Grace O Lord.)

Free Real Player Download
SHRI SAI SATHCHARITHA

"Sada Nimbarvrikshasya mooladhiwasat, Sudhasravinam tiktamapi-apriyam tam, Tarum Kalpavrikshadhikam sadhayantam Namameeshwaram Sadgurum Sai Natham"

Khaparde

Chapter VII

Pillay
Master Khaparde's Plague-Case
I
shall now relate another instance of Baba's wonderful Leela. Mrs. Khaparde, the wife of Mr. Dadasaheb Khaparde of Amraoti, was staying at Shirdi with her young son for some days. One day the son got high fever, which further developed into Bubonic plague. The mother was frightened and felt most uneasy. She thought of leaving the place for Amraoti, and went near Baba in the evening, when He was coming near the Wada (now Samadhi Mandir) in His evening rounds, for asking His permission. She informed Him in a trembling tone, that her dear young son was down with plague. Baba spoke kindly and softly to her, saying that the sky is beset with clouds; but they will melt and pass off and everything will be smooth and clear. So saying, He lifted up His Kafni up to the waist and showed to all present, four fully developed bubos, as big as eggs, and added, "See, how I have to suffer for My devotees; their difficulties are Mine." Seeing this unique and extraordinary deed (Leela), the people were convinced as to how the Saints suffer pains for their devotees. The mind of the saints is softer than wax, it is soft, in and out, as butter. They love their devotees without any idea of gain, and regard them as their true relatives.
Bow to Shri Sai -- Peace be to all
Devotees Experiences
Sri P.V.Satyanarayana Sastri records, in an article, the strange transformation of a famous atheist of Andhra into an ardent devotee of Baba. Late Sri Gopichand, a famous writer and a prominent atheist, was working as an employee of the Government at Kurnool. His wife was in the hospital, suffering from labour pains for three days and her condition was critical. On the third day, as he walked past the Sai Mandir towards hospital, he thought; "Baba, if you could bless my wife with a safe delivery, I shall believe that your power is divine."
At the hospital his wife delivered a male child. She told him that the old fakir in a vision, sat on her cot and said, "Don't fear, I shall save you." He then put a little vibhuti on her forehead, put a little of it in water and gave her to drink. She at once delivered. And the time of her vision coincided precisely with the time of his silent prayer to Baba! Gopichand named his son as Sai Baba, causing quite a stir among his atheist friends.
Please send your experineces also to saivishnu@hotmail.com