Om Mrutyunjayaaya namaha
People are very ignorant. When they do not see My physical body they think I am absent ---SAIBABA
OM SAI SRI SAI JAYA JAYA SAI
SHRADHA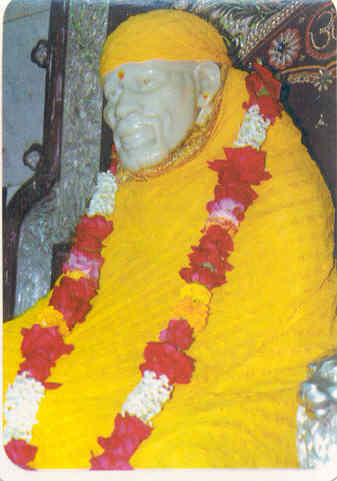 SABURI
SAI BHAJAN (Click Here For Real Audieo)

Devi Bhavaani Maa Sai Bhavaani Maa 
Dayaa Karo Sai Maa Krupaa Karo Sai Maa 
Jaya Maa Jaya Maa Jaya Sai Bhavaani Maa 
Jaya Parthi Nivaasini Maa 
Jaya Sai Bhavaani Maa 

(Victory to Goddess Bhavaani, Sai Bhavaani! Oh Mother Sai, 
  bestow Thy Grace on us and lead us on the spiritual path. May You be 
  victorious in this task.)

Free Real Player Download
SHRI SAI SATHCHARITHA

"Sada Nimbarvrikshasya mooladhiwasat, Sudhasravinam tiktamapi-apriyam tam, Tarum Kalpavrikshadhikam sadhayantam Namameeshwaram Sadgurum Sai Natham"

Bhagojishinde

Chapter VII

Chotubhaiyaparalka
Shri Sai Satcharitra
Chapter VII
Behaviour of Sai Baba
Fool that I am, I cannot describe Baba's miracles. He got almost all the temples in Shirdi repaired. Through Tatya Patil, the temples of Shani, Ganapati, Shankar-Parvati, Village Deity, and Maruti were put in order. His charity was also remarkable. The money He used to collect as Dakshina was freely distributed, Rs.20 to some, Rs.15 or 50, to others everyday. The recipients thought that this was 'pure' charity money, and Baba wished that it should be usefully employed.
People were immensely benefited by having a darshana of Baba. Some became hale and hearty; wicked people were turned into good ones. Kushtha (Leprosy) was cured in some cases, many got their desires fulfilled, without any drops or medicine being put in the eyes, some blind men got back their sight and some lame ones got their legs. Nobody could see the end of His extraordinary greatness. His fame spread far and wide, and pilgrims from all sides flocked to Shirdi. Baba sat always near the Dhuni and eased Himself there, and always sat in meditation; sometimes with and on other times without a bath.
He used to tie a white turban on his head; and wear a clean Dhotar round his waist, and a shirt on his body. This was his dress in the beginning. He started practicing medicine in the village, examined patients and gave medicines. He was always successful, and He became famous as a Hakim (Doctor). A curious case may be narrated here. One devotee got his eye balls quite red and swollen. No Doctor was available in Shirdi. The other devotees took him to Baba. Other Doctors would use ointments, Anjans, cow's milk and camphorated drugs etc., in such cases. Baba's remedy was quite unique. He pounded some 'BEEBA' (Some Carpus Ana Cardium i.e. marking nuts) and made two balls of them, thrust them on in each eye of the patient and wrapped a cloth-bandage round them (eyes). Next day, the bandage was removed and water was poured over them in a stream. The inflammation subsided and the pupils became white and clear. Though the eyes are very delicate, the BEEBA caused no smarting; but removed the disease of the eyes. Many such cases were cured and this is only an instance in point.
Bow to Shri Sai -- Peace be to all