Om Bhoota bhavishyad Bhaava varjitaaya namaha
As soon as a devotee calls Me with love, I will appear ---SAIBABA
OM SAI SRI SAI JAYA JAYA SAI
SHRADHA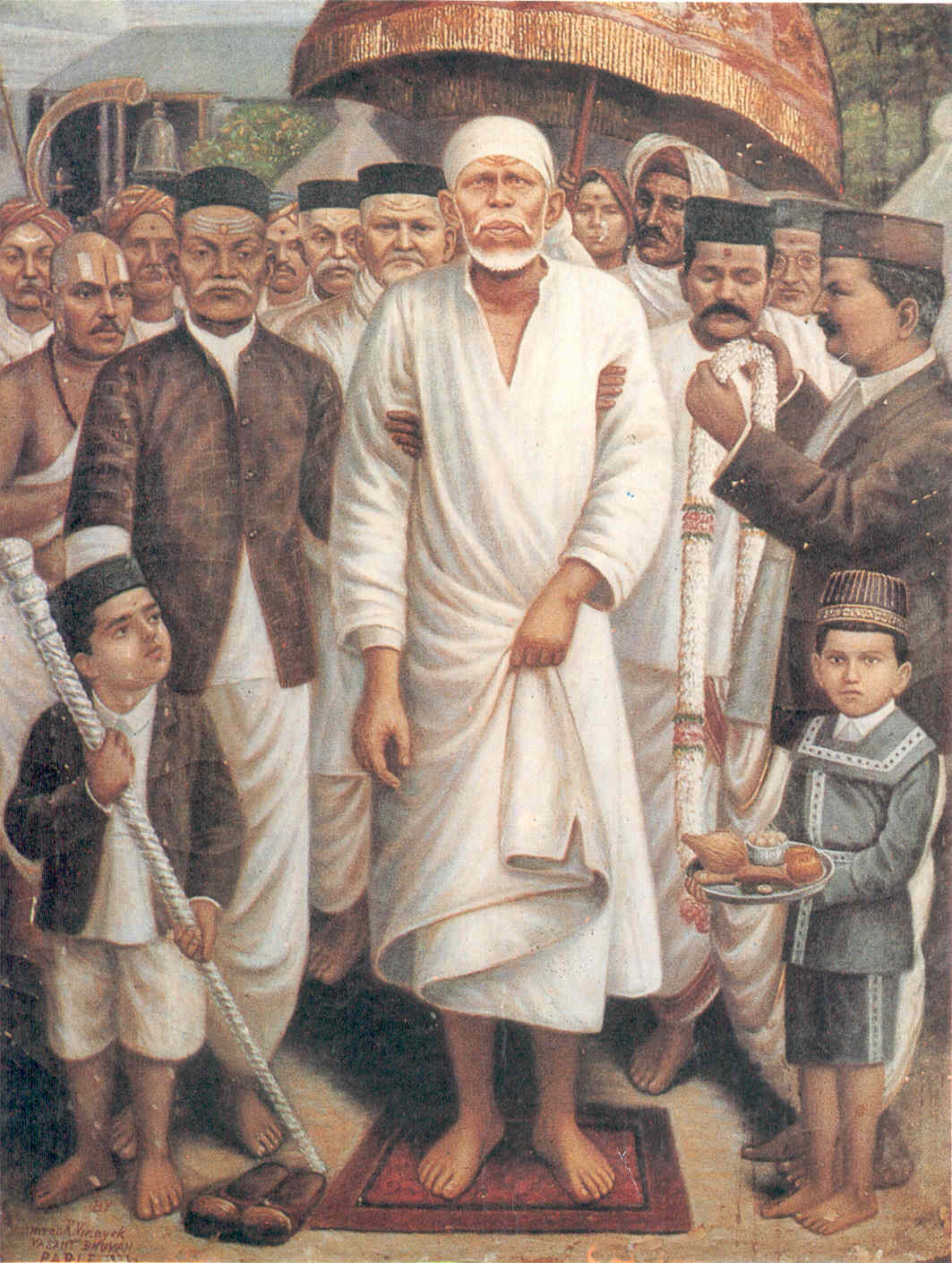 SABURI
SAI BHAJAN (Click Here For Real Audieo)

Bhola Bhandaari Baba Shiva Shiva Sai Baba 
Anaathha Rakshaka Deena Dayaala Patheetha Paavana Sai Baba 
Yogeshwara Sai Muraari, Yogeshwara Hey Tripuraari 
Nithyaananda Brahmaananda Premaananda Sai Baba 

(O Lord Sai Baba! Thou art the support, sustainer and shelter of 
  fallen and miserable ones. Chant the names of Lord Yogeshwar, Sai, Murari. Who 
  is always blissful, happy and loving.)


Free Real Player Download
SHRI SAI SATHCHARITHA

"Sada Nimbarvrikshasya mooladhiwasat, Sudhasravinam tiktamapi-apriyam tam, Tarum Kalpavrikshadhikam sadhayantam Namameeshwaram Sadgurum Sai Natham"

Ramakrishnanawalkar

Chapter V

Yashwantgalwankar
Shri Sai Satcharitra
Chapter V
Turning Water into Oil
S
ai Baba was very fond of lights. He used to borrow oil from shop-keepers, and keep lamps burning the whole night in the Masjid and temple. This went on for some time. The Banias, who supplied oil gratis, once met together and decided not to give Him oil. When, as usual, Baba went to ask for oil, they all gave Him a distinct No. Unperturbed, Baba returned to the Masjid and kept the dry wicks in the lamps. The banias were watching Him with curiosity. Baba took the Tumrel (tin pot) which contained very little (a few drops) of oil, put water into it and drank it and forced it fall in the container. After consecrating the tin-pot in this way, He again took water in the tin-pot and filled all the lamps with it and lighted them. To the surprise and dismay of the watching Banias, the lamps began to burn and kept burning the whole night. The Banias repented and apologized. Baba forgave them and asked them to be more truthful in future.
The Pseudo-Guru Javhar Ali
F
ive years after the wrestling bout mentioned above, one Fakir from Ahmednager by name Javhar Ali, came to Rahata with his disciples and stayed in Bakhal (spacious room) near Virabhadra temple. The Fakir was learned, could repeat the whole Koran and had a sweet tongue. Many religious and devout people of the village came to him and began to respect him. With the help of the people, he started to build an Idgah ( a wall before which Mahomedans pray on Idgah day), near the Virabhadra temple. There was some quarrel about this affair, on account of which, Javhar Ali had to leave Rahata. Then he came to Shirdi and lived in the Masjid with Baba. People were captured by his sweet talk, and he began to call Baba his disciple. Baba did not object and consented to be his Chela. Then both Guru and Chela decided to return to Rahata and live there. The Guru (Teacher) never knew his disciple's worth, but the disciple knew the defects of the Guru, still he never disrespected him, observing carefully his duties. He even served the Master in various ways. They used to come to Shirdi off and on, but their main stay was in Rahata. The loving devotees of Baba in Shirdi did not like, that Baba should stay away from them in Rahata. So they went in a deputation to bring Baba back to Shirdi. When they met Baba near the Idgah and told the purpose for which they came, Baba said to them that the Fakir was an ill-tempered fellow, he would not leave him and that they should better return to Shirdi without him, before the Fakir returned. While they were thus talking, the Fakir turned up and was very angry with them for trying to take away his disciple. There was some discussion and altercation and it was finally decided that both the Guru and Chela should return to Shirdi. And so they returned and lived in shirdi. But after a few days the Guru was tested by Devidas and he was found wanting. Twelve years before Baba arrived in Shirdi with the marriage-party, this Devidas aged about 10 or 11 came to Shirdi and lived in the Maruti temple. Devidas had fine features and brilliant eyes, and he was dispassion incarnate and a Jnani. Many persons, namely Tatya Kote, Kashinath and others regarded, him as their Guru. They brought Javhar Ali in his presence, and in the discussion that followed, Javhar was worsted and fled from Shirdi. He went and stayed in Bijapur and returned after many years to Shirdi, and prostrated himself before Sai Baba. The delusion that he was Guru and Sai Baba his Chela, was cleared away, and as he repented, Sai Baba treated him with respect. In this case Sai Baba showed by actual conduct how one should get rid of egoism and do the duties of a disciple to attain the highest end, viz., self-realization. This story is told here according to the version given by Mhalsapati ( a great devotee of Baba).
Bow to Shri Sai -- Peace be to all