Om Sesha Saayine namaha
I am the bond-slave of my devotee ---SAIBABA
OM SAI SRI SAI JAYA JAYA SAI
SHRADHA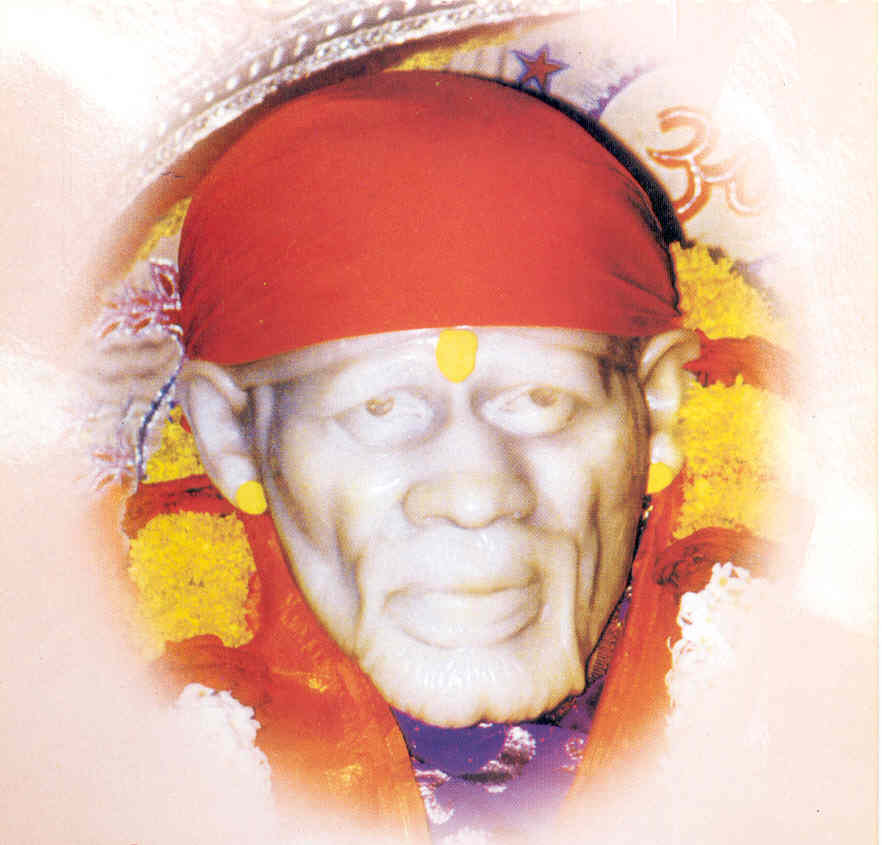 SABURI
SAI BHAJAN (Click Here For Real Audieo)

Dhimita Dhimita Dhim Dhimita Dhimita Dhim Naachey Bhola Nath 
Naachey Bhola Nath (4x) 
Mridanga Boley Shiva Shiva Shiva Om 
Damaru Boley Hara Hara Hara Om 
Veena Boley Sai Ram Sai Ram 
Naachey Bhola Nath (4x) 

( Lord Shiva dances in ecstacy with the tune, "Dhimiki Dhimiki Dhim".
  Along with it the drum vibrates with the sound, "Har Har Har Om", Mrudanga 
  (musical instrument) chants the auspicious name of, "Shiva Shiva Shiva" and 
  Veena (musical instrument) vibrates chanting. "Hari Om Hari Om Hari Om" and 
  "Sai Ram Sai Ram".)





Free Real Player Download
SHRI SAI SATHCHARITHA

"Sada Nimbarvrikshasya mooladhiwasat, Sudhasravinam tiktamapi-apriyam tam, Tarum Kalpavrikshadhikam sadhayantam Namameeshwaram Sadgurum Sai Natham"

Dasganu

Chapter IV

Dadasahebpurandare
Shri Sai Satcharitra
Chapter IV
I
Vithal Himself Appeared
Sai Baba was very fond of remembering and singing God's name. He always uttered Allah Malik(God is Lord) and in His presence made others sing God's name continuously, day and night, for 7 days. This is called Namasaptaha. Once He asked Das Ganu Maharaj to do the Namasaptaha. He replied that he would do it, provided he was assured that Vithal would appear at the end of the 7th day. Then Baba, placing His hand on his breast assured him that certainly Vithal would appear, but that the devotee must be 'earnest and devout'. The Dankapuri (Takore) of Takurnath, the Pandhari of Vithal, the Dwarka of Ranchhod (Krishna) is here (Shirdi). One need not go far out to see Dwarka. Will Vithal come here from some outside place? He is here. Only when the devotee is bursting with love and devotion, Vithal will manifest Himself here (Shirdi).
After the Saptaha was over, Vithal did manifest Himself in the following manner. Kakasaheb Dixit was, as usual, sitting in meditation after the bath, and he saw Vithal in a vision. When he went at noon for Baba's darshana, Baba asked him point-blank - "Did Vithal Patil come? Did you see Him? He is a very truant fellow, catch Him firmly, otherwise, he will escape, if you be a little inattentive." This happened in the morning and at noon there was another Vithal darshana. One hawker from outside, came there for selling 25 or 30 pictures of Vithoba. This picture exactly tallied with the figure, that appeared in Kakasaheb's vision. On seeing this and remembering Baba's words, Kakasaheb Dixit was much surprised and delighted. He bought one picture of Vithoba, and placed it in his shrine for worship.
Das Ganu's Bath in Prayag
The Hindus think that a bath in the holy Tirth of Prayag, where the Ganga and Yamuna meet, is very meritorious and thousands of pilgrims go there, at periodical times, to have the sacred bath there. Once, Das Ganu thought that he should go to Prayag for a bath, and came to Baba to get His permission for doing so. Baba replied to him - "It is not necessary to go so long. Our Prayag is here, believe me." Then wonder of wonders! When Das Ganu placed his head on Baba's Feet, out came or flowed streams, of Ganga - Yamuna water, from both the toes of Baba. Seeing this miracle, Das Ganu was overwhelmed with feelings of love and adoration and was full of tears. Inwardly, he felt inspired, and his speech burst forth into a song in praise of Baba and His Leelas.
Bow to Shri Sai -- Peace be to all