Om Sree Sai naadhaaya namaha
I am Parvardigar I live at Shirdi and everywhere ---SAIBABA
OM SAI SRI SAI JAYA JAYA SAI
SHRADHA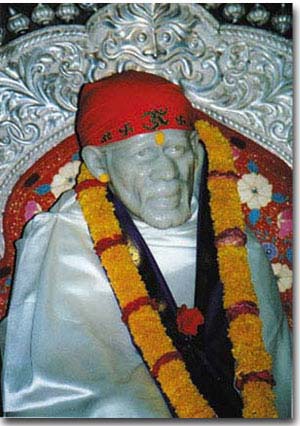 SABURI
SAI BHAJAN (Click Here For Real Audieo)

Aananda Saagara Muralidhara 
Meera Prabhu Radhey Shyaam Venu Gopaala 
Nanda Yashoda Ananda Kishora 
Jai Jai Gokula Baala Jai Venu Gopaala 


(Victory to Krishna, beloved Prince of Yashoda. Thou art the ocean 
of bliss and player of captivating music on flute and Lord of 
Mira (devotee), Radha and the entire Universe.) 





Free Real Player Download
SHRI SAI SATHCHARITHA

"Sada Nimbarvrikshasya mooladhiwasat, Sudhasravinam tiktamapi-apriyam tam, Tarum Kalpavrikshadhikam sadhayantam Namameeshwaram Sadgurum Sai Natham"

Hemadpant

Chapter I

Mhalsapati
Shri Sai Satcharitra
Chapter I
After describing in brief the various modes of devotion according to Parashara, Vyasa and Shandilya etc., the author goes on to relate the following story:
"It was sometime after 1910 A.D. that I went, one fine morning, to the Masjid in Shirdi for getting a darshan of Sai Baba. I was wonder-struck to see the following phenomenon. After washing His mouth and face, Sai Baba began to make preparations for grinding wheat. He spread a sack on the floor; and thereon set a hand-mill. He took some quantity of wheat in a winnowing fan, and then drawing up the sleeves of His Kafni (robe); and taking hold of the peg of the hand-mill, started grinding the wheat by putting a few handfuls of wheat in the upper opening of the mill and rotoated it. I thought 'What business Baba had with the grinding of wheat, when He possessed nothing and stored nothing, and as He lived on alms!' Some people who had come there thought likewise, but none had the courage to ask baba what He was doing. Immediately, this news of Baba's grinding wheat spread into the village, and at once men and women ran to the Masjid and flocked there to see Baba's act. Four bold women, fro m the crowd, forced their way up and pushing Baba aside, took forcibly the peg or handle into their hands, and, singing Baba's Leelas, started grinding. At first Baba was enraged, but on seeing the women's love and devotion, He was much pleased and began to smile. While they were grinding, they began to think that Baba had no house, no property, no children, none to look after, and He lived on alms, He did not require any wheat-flour for making bread or roti, what will He do with this big quantity of flour? Perhaps as Baba is very kind, He will distribute the flour amongst us. Thinking in this way while singing, they finished the grinding and after putting the hand-mill aside, they divided the flour into four portions and began to remove them one per head. Baba, Who was calm and quiet up till now, got wild and started abusing them saying, "Ladies, are you gone mad? Whose father's property are you looting away? Have I borrowed any wheat from you, so that you can safely take the flour? Now please do this. Take the flour and throw it on the village border limits." On hearing this, the women felt abashed and whispering amongst themselves, went away to the outskirts of the village and spread the flour as directed by Baba.
I asked the Shirdi people - "What was this that Baba did?" They replied that as the Cholera Epidemic was spreading in the village and this was Baba's remedy against the same; it was not wheat that was ground but the Cholera itself was ground to pieces and pushed out of the village. From this time onward, the Cholera Epidemic subsided and the people of the village were happy. I was much pleased to know all this; but at the same time my curiosity was also aroused. I began to ask myself - What earthly connection was there between wheat flour and Cholera? What was the casual relation between the two? and how to reconcile them? The incident seems to be inexplicable. I should write something on this and sing to my heart's content Baba's sweet Leelas. Thinking in this way about this Leela, my heart was filled with joy and I was thus inspired to write Baba's Life - The Satcharita.
And as we know, with Baba's grace and blessing this work was successfully accomplished.
Bow to Shri Sai -- Peace be to all