HAPPY GURUPOORNIMA
Om Godavaree thata Shiridi vaasine namaha
The key of my treasury is now placed in your hands. Ask for any thing you want Trust in the Guru fully. This is the only Sadhana, Guru is all the Gods ---SAIBABA
OM SAI SRI SAI JAYA JAYA SAI
SHRADHA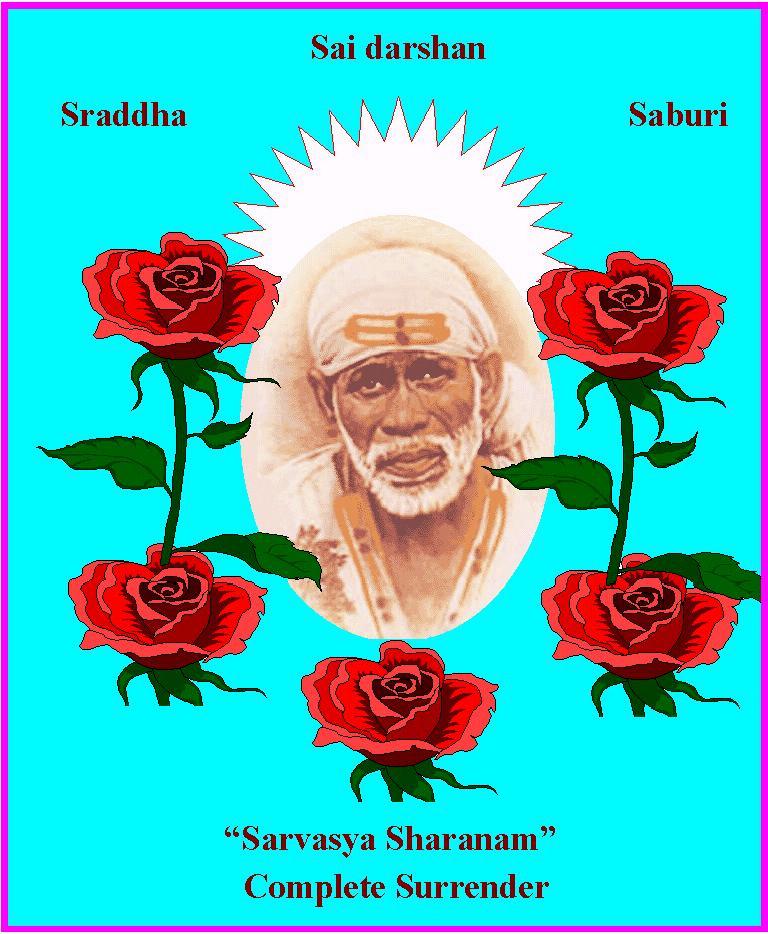 SABURI
SAI BHAJAN (Click Here For Real Audieo)

Maanasa Bhajorey Guru Charanam
Dusthara Bhava Saagara Tharanam
Guru Maharaaj Guru Jai Jai
Sai Naathha Sad Guru Jai Jai
Om Namah Shivaaya, Om Nama Shivaaya,
Om Namah Shivaaya, Shivaaya Namah Om
Arunaachala Shiva, Arunaachala Shiva,
Arunaachala Shiva Aruna Shiv Om
Omkaaram Baba, Omkaaram Baba,
Omkaaram Baba Om Namo Baba

(O mind, worship the Lotus Feet of your God and Supreme Teacher,
  Sai Baba. That will take you safely across the ocean of life and death.
  Victory to our Lord and supreme Teacher, Sai Nath! Mind, also chant and
  worship the divine names of Lord Shiva who dwells on the Arunachala mountain
  and Sai Baba whose form is OM. )

Free Real Player Download
GURUPOORNIMA
Dear all sai bandhu's Today is the greatest day for all who belive in GURU,According to the great sai devotees ,This is the only festival sai him self asked his disciples to celabrate in dwarakamai,More over baba was prayed as "sadguru", that's why GURUPOORNIMA has got greatest imporatance for all of us. At this great occassion let us share one of the great storey in shri sai sath charitha about guru.
"ABOUT GURU" TOLD BY SHRI SAIBABA
There was an old woman by name Radhabai, She was the mother of one Khashaba Deshmukh. Hearing Baba's fame, she came to Shirdi with the people of Sangamner. She took Baba's darshan and was much satisfied. She loved Baba intimately and resolved in her mind, that She should accept Baba as her Guru, and take some Upadesh from Him. She knew nothing else. She determined to fast herself unto death, so long as Baba did not accept her, and give her any Upadesh or Mantra. She stayed in her lodging and left off taking any food or water for three days. I was frightened by this ordeal of the old woman, and interceded with Baba on her behalf. I said, "Deva, what is this You have started? You drag so many persons here. You know that old lady. She is very obstinate and depends on You entirely, She has resolved to fast unto death, if You don't accept and instruct her. If any thing worse happens, people will blame You, and say that Baba did not instruct her, and consequently she met her death. So take some mercy on her, bless her and instruct her." On seeing her determination, Baba sent for her, changed the turn of her mind by addressing her as follows:-
"Oh mother, why are you subjecting yourself to unnecessary tortures and hastening your death? You are really My Mother and I am your child. Take pity on Me and hear Me through. I tell you My own story, which if you listen carefully, will do you good. I had a Guru. He was a great Saint and most merciful. I served him long, very long; still he would not blow any Mantra into My ears. I had a keen desire, never to leave him but to stay with and serve him; and at all costs receive some instructions from him. But he had his own way. He first got my head shaved and asked Me two pice as Dakshina. I gave the same at once. If you say that as My Guru was perfect, why should he ask for money and how should he be called desireless? I replied plainly that he never cared for coins. What had he to do with them? His two pice were (1) Firm Faith and (2) Patience or perseverance. I gave these two pice or things to him, and he was pleased.
"I resorted to My Guru for 12 years. He brought Me up. There was no dearth of food and clothing. He was full of love nay, he was love incarnate. How can I describe it? He loved Me most. Rare is a Guru like him. When I looked at him, he seemed as if he was in deep meditation, and then we both were filled with Bliss. Night and day, I gazed at him with no thought of hunger and thirst. Without him, I felt restless. I had no other object to meditate, nor any other thing than My Guru to attend. He was My sole refuge. My mind was always fixed on him. This is one pice Dakshina. Saburi (Patience or perseverance) is the other pice. I waited patiently and very long on My Guru and served him. This Saburi will ferry you across the sea of this mundane existence. Saburi is manliness in man, it removes all sins and afflictions, gets rid of calamities in various ways, and casts aside all fear, and ultimately gives you success. Saburi is the mine of virtues, consort of good thought. Nishtha (Faith) and Saburi (Patience) are like twin sisters, loving each other very intimately."
"My Guru never expected any other thing from Me. He never neglected Me, but protected Me at all times. I lived with him, and was sometimes away from him; still I never felt the want or absence of his love. He always protected Me by his glance, just as the tortoise feeds her young ones, whether they are near her or away from her on the other side of the river bank, by her loving looks. Oh mother, My Guru never taught Me any Mantra, then how shall I blow any Mantra in your ears? Just remember that Guru's tortoise-like loving glance gives us happiness. Do not try to get Mantra or Upadesh from anybody. Make Me the sole object of your thoughts and actions; and you will, no doubt, attain Paramartha (the spiritual goal of life). Look at Me whole-heartedly, and I in turn look at you similarly. Sitting in this Masjid, I speak the truth, nothing but the truth. No Sadhanas, nor proficiency in the six Shastras, are necessary. Have faith and confidence in your Guru. Believe fully, that Guru is the sole Actor or Doer. Blessed is he who knows the greatness of his Guru and thinks him to be Hari, Hara and Brahma (Trimurti) Incarnate."
Instructed in this way, the old lady was convinced; she bowed to Baba and gave up her fast.

Hearing this story carefully and attentively, and marking its significance and appropriateness, Hemadpant was most agreeably surprised. Seeing this wonderful Leela of Baba, he was moved from top to toe, he was overflowing with joy, his throat was choked, and he was not able to utter a single word. Shama, on seeing him in this condition asked him, - "What is the matter with you, why are you silent? How many innumerable Leelas of Baba shall I describe!"
Just at that time the bell in the Masjid began to ring, proclaiming that the noon-worship and Arati ceremony had begun. Therefore, Shama and Hemadpant hurried to the Masjid. Bapusaheb Jog had just started the worship. Women were up in the Masjid, and men were standing below in the open courtyard and they were all loudly singing the Arati in chorus to the accompaniment of drums. Shama went up, pulling Hemadpant with him. He sat to the right and Hemadpant in front of Baba. On seeing them, Baba asked Hemadpant to give the Dakshina brought from Shama. He replied that Shama gave Namaskaras in lieu of Rupees and that he was there in person. Baba said, "Alright, now let Me know whether you both had a chitchat, and if so, tell Me all that you talked about." Not minding the sounds of the bell, the drum and the chorus songs, Hemadpant was eager to tell what they had talked and started to narrate it. Baba was also anxious to hear, and so He left the bolster and leaned forward. Hemadpant said all that they talked about was very pleasant, and that specially the story of the old lady was most wonderful and that on hearing it, he thought that His Leela was inexplicable, and under the guise of that story, He really blessed him. Baba then said - "Wonderful is the story. How were you blessed? I would like to know everything in detail from you, so tell Me all about it." Then Hemadpant related in full the story which he had heard a little while before, and which had made a lasting impression on his mind. Hearing this Baba was much pleased and asked him - "Did the story strike you and did you catch its significance?" He replied - "Yes, Baba the restlessness of my mind has vanished and I have got true peace and rest, and come to know the true path."
Then Baba spoke as follows:- "My method is quite unique. Remember well, this one story, and it will be very useful. To get the knowledge (realization) of the Self, Dhyana (meditation) is necessary. If you practice it continuously, the Vrittis (thoughts) will be pacified. Being quite desireless, you should meditate on the Lord, Who is in all the creatures, and when the mind is concentrated, the goal will be achieved. Meditate always on My formless nature, which is knowledge incarnate, consciousness and bliss. If you cannot do this, meditate on My Form from top to toe as you see here night and day. As you go on doing this, your Vrittis will concentrate on one point and the distinction between the Dhyata (meditator), Dhyana (act of meditation), Dhyeya (this meditated upon) will be lost and the meditator will be one with the Consciousness and be merged in the Brahman. The (mother) tortoise is on one bank of the river, and her young ones are on the other side. She gives neither milk, nor warmth to them. Her mere glance gives them nutrition. The young ones do nothing, but remember (meditate upon) their mother. The tortoise glance is, to the young ones, a down-pour of nectar, the only source of sustenance and happiness. Similar is the relation, between the Guru and disciples ."
When Baba uttered these last words, the chorus of the Arati songs stopped and all cried out loudly in one voice: "Victory be to our Sadguru Sai Maharaj, Who is Existence, Knowledge and Bliss." Dear readers, let us imagine, that we are at this time, standing amongst the crowd in the Masjid; and let us join them in this Jayajayakar .
After the Arati ceremony was over, Prasad was distributed. Bapusaheb Jog advanced as usual, and after saluting Baba, gave into His hand a handful of sugar-candy. Baba pushed all this quantity into the hands of Hemadpant and said to him, "If you take this story to heart and remember it well, your state will be sweet as the sugar-candy, all your desires will be fulfilled and you will be happy." Hemadpant bowed before Baba and implored, "Do favour me like this, bless and protect me always." Baba replied - "Hear this story, meditate on it and assimilate its spirit. Then you will always remember and meditate on the Lord, Who will manifest Himself to you."
Dear readers! Hemadpant got Prasad of sugar-candy then; and we now get the Prasad of sugar-candy or nectar of this story. Let us drink it to out heart's content, meditate on it, and assimilate it, and be strong and happy by Baba's grace. Amen!
SHRI SAI SATHCHARITHA
Chapter III
Motherly Love of Sai Baba
E
verybody knows how a cow loves her infant calf. Her udder is always full and when the calf wants milk and dashes at the udder, out comes the milk in an unceasing flow. Similarly a human mother knows the wants of her child and feeds it, at her breast in time. In case of dressing and adorning the child, the mother takes particular care to see that this is well done. The child knows or cares nothing about this, but the mother's joy knows no bounds, when she sees her child beautifully dressed and adorned. The love of mother is peculiar, extraordinary and disinterested, and has no parallel. Sadgurus feel this motherly love towards their disciples. Sai Baba had this same love towards me, and I give an instance of it below:-
In 1916 A.D. I retired from Government Service. The pension that was settled in my case was not sufficient to maintain my family decently. On Guru-Pournima (15th of Ashadha) day of that year, I went to Shirdi with other devotees. There, Mr. Anna Chinchanikar, of his own accord, prayed to Baba for me as follows:- "Please look kindly on him, the pension he gets is quite insufficient, his family is growing. Give him some other appointment, remove his anxiety and make him happy." Baba replied - " He will get some other job, but now he should serve Me and be happy. His dishes will be ever full and never empty. He should turn all his attention towards Me and avoid the company of atheists, irreligious and wicked people. He should be meek and humble towards all and worship Me heart and soul. If he does this, he will get eternal happiness".
The question Who is this HE, Whose worship is advocated, is already answered in a note on "Who is Sai Baba" in the prologue, at the beginning of this work.
Rohilla's Story
T
he story of the Rohilla illustrates Sai Baba's all embracing love. One Rohilla, tall and well-built, strong as a bull, came to Shirdi, wearing a long Kafni (robe) and was enamoured of Sai who stayed there. Day and night he used to recite in a loud and harsh tone Kalma (verses from Holy Koran) and shout "ALLAH HO AKBAR" (God is Great). Most people of Shirdi, were working in their fields by day and when they returned to their homes at night, they were welcomed with the Rohilla's harsh cries and shouts. They could get no sleep and felt much trouble and inconvenience. They suffered in silence this nuisance for some days, and when they could stand it no longer, they approached Baba, and requested Him to check the Rohilla and stop the nuisance. Baba did not attend to their complaint. On the contrary, Baba took the villagers to task, and asked them to mind their own business, and not the Rohilla. He said to them that the Rohilla had got a very bad wife, a Zantippi, who tried to come in and trouble the Rohilla and Himself; but hearing the Rohilla's prayers, she dare not enter and they were at peace and happy. In fact, the Rohilla had no wife and by his wife Baba meant DURBUDDHI, i.e. bad thoughts. As Baba liked prayers and cries to God better than anything else, He took the side of the Rohilla, and asked the villagers to wait and suffer the nuisance, which would abate in due course.
Baba's Sweet and Nectar-like Words
O
ne day at noon after the Arti, devotees were returning to their lodgings, when Baba gave the following beautiful advice:-
"Be wherever you like, do whatever you choose, remember this well that all what you do is known to Me. I am the Inner Ruler of all and seated in their hearts. I envelope all the creatures, the movable and immovable world. I am the Controller - the wire-puller of the show of this Universe. I am the mother - origin of all beings - the Harmony of three Gunas, the propeller of all senses, the Creator, Preserver and Destroyer. Nothing will harm him, who turns his attention towards Me, but Maya will lash or whip him who forgets Me. All the insects, ants, the visible, movable and immovable world, is My Body or Form".
Hearing these beautiful and precious words, I at once decided in my mind to serve no man henceforward, but my Guru only; but the reply of Baba to Anna Chinchanikar's query (which was really mine) that I would get some job, began to revolve in my mind, and I began to think whether it would come to happen. As future events showed, Baba's words came true and I got a Government job, but that was of short duration. Then I became free and solely devoted my self to the service of my Guru-Sai Baba.
Before concluding this Chapter, I request the readers to leave out the various hindrances viz. indolence, sleep, wandering of mind, attachments to senses, etc. and turn their whole and undivided attention to these stories of Sai Baba. Let their love be natural, let them know the secret of devotion; let them not exhaust themselves by other Sadhanas, let them stick to this one simple remedy, i.e. listening to Sai Baba's stories. This will destroy their ignorance and will secure for them salvation. A miser may stay at various places; but he always thinks of his buried treasure. So let Sai Baba be enthroned in the hearts of all.
In the next chapter, I shall speak of Sai Baba's advent in Shirdi.
Bow to Shri Sai -- Peace be to all